FinMin says double digit foreign reserves by end of this year
Published : 9:28 am April 28, 2017 | No comments so far | |
(577)
reads |
By Chandeepa Wettasinghe
Sri Lanka's foreign reserves are expected to reach double digits by the end of this year through borrowings, investment inflows and fund repatriations, Finance Minister Ravi Karunanayake said yesterday.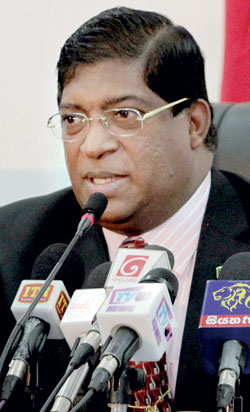 "By the end of the year we will have double digit reserves," he said, in response to a question Mirror Business raised on meeting International Monetary Fund targets for foreign reserves to remain eligible for its US$ 1.5 billion Extended Fund Facility.

He said that an inflow of US$ 1 billion through a syndicated loan, which would be finalized by May, a sovereign bond of US$ 1.5 billion to be issued this June, Sri Lanka Development Bonds, proceeds from Chinese investments into the Hambantota Port and moneys of Sri Lankans kept overseas that will return to the country amid lax foreign exchange regulation envisaged, will contribute to the figure.

Karunanayake said for the debt portion, the government has witnessed low interest rates in the market, and therefore would end past practices of short-term borrowings, in order to gain the best rates for the country.

He noted that the US$ 1 billion of investments expected from the sale of shares in non-strategic state owned enterprises are not included in the foreign reserves plan yet, since more time is required to set up the process.

Sri Lanka's reserves which stood at US$ 6.5 billion at the end of September 2016 fell to US$ 5.11 billion at the end of last month due to foreign investment outflows in government securities, repayments of foreign debt, and an increase of imports compared to a fall in exports.

However, President Maithripala Sirisena recently stressed that economy was on a sound footing as foreign reserves remained strong at over US $ 5 billion.
The Central Bank has abandoned a past practice of defending the rupee, which has eased pressure on foreign reserves, and is now pursuing a policy of only taking corrective measures to smoothen out unusual fluctuations in the currency.
Karunanayake noted that reserves are now being strengthened due to confidence in the Sri Lankan economy. "There's a surge in foreign direct investments. In the stock market there are portfolio investments. We didn't want to panic. We wanted to have value addition to the reserves," he said.

He added that reserves were mainly shored up through borrowed funds in the past.
Economists have noted that Sri Lanka will not be able to maintain high reserve positions without committing to structural reforms to bring in long-term investments, and to boost exports.
---
Ravi K slams Templeton, again

For the second time this year, Karunanayake yesterday accused international fund manager Franklin Templeton of attempting to sabotage the Sri Lankan economy.

"They (the previous regime) brought Templeton to this country at fixed interest rates of 14.85 percent in 2013. In a similar manner, they (Templeton) started to withdraw from Sri Lanka due to a political transaction. They thought that it would destabilize the economy," he said.

Noting that these outflows were the main contribution to the deterioration of foreign reserves over the past several months, he noted that since Templeton has now exited, Sri Lanka is witnessing real interest from foreign investors.

"We were ready. They didn't know that we were tough and wise in acting proactively to stem the tide. After they took all the money out, we saw a surge in foreign investments. If there's a problem in the economy, this wouldn't happen," he said.
(577)