Australian boat fantasies and unlikely returns
Published : 8:11 am May 5, 2017 | No comments so far | |
(522)
reads |
This photograph of a boat full of 44 Sri Lankan refugees including a pregnant woman and nine children who were discovered by Indonesian Coast Guard en route to Australia, captured international attention. 12.06.2016 Courtesy: AP

"Lankawata yanna asai. Ape rata godak mathak wenawa," (We love to go back to Sri Lanka. We miss our country very much), said by Nandini, one of Sri Lankan Tamil refugees living in Gummidpoondi camp, Chennai. Ninety nine per cent of them expressed their desire to return to their motherland.
While some are dreaming about the return, some refugees dream of going to Australia via boats, seeking better lives. Despite knowing it is illegal and have no chance of settling down in Australia, their attempts do not seem to be discouraged.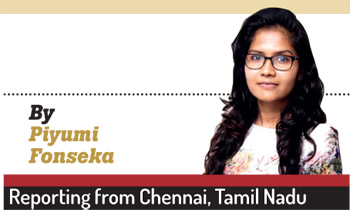 Very often, these desperate refugees are targetted by agents who are engaged in human trafficking. As hopes of returning to the motherland were fading, Sri Lankan refugees are hoodwinked by such agents who show them a fantasy in Australia. The refugees pay money with the purpose of leaving presumably for Australia.

Australia, several times toughened its immigration rules to speed up assessment and deportation of asylum-seekers. It recently toughened the process of obtaining Australian citizenship. As per the existing Australian law, those who are found to be entering the country without valid visa are sent to 'refugee dumping grounds' in Nauru and Papua New Guinea.

The refugee issue is now becoming a political issue between Sri Lanka and Australia. Meanwhile, a massive advertising campaign is ongoing in Sri Lanka sponsored by the Australian government, with the purpose of raising awareness on the reality of boat journeys. The advertising campaign carried out across all media platforms including television, radio, social media and street posters is telling people not to get caught by smugglers because they have no chance whatsoever to enter Australia.
However, Sri Lankan refugees at Gummidpoondi camp said they got on boats with dreams of having a quality life and giving a quality life for their children.
Photographs by Shyam Gowtham and Steni Simon

Aussie citizenship after two years in detention camps – Joyce

Some refugees in Gummidipoondi camp spoke of their boat journeys to Australia.
"19 day boat journey is terrible. We were always anxious at what time the boat would capsize with bad weather. It was very difficult to breathe properly with the fear of death. All we had to do was pray to God and ask to take us to a safer place," said Joice (53).

"We were told that we would be given Australian citizenship after spending two years in detention camps. We agreed to that. Some of our refugees had followed that procedure and are already living in Australia happily. So we keep trying," she said.
The boat whice Joice and 43 others were in, had been captured by Indonesian Coast Guards and brought back to Tamil Nadu. Their boat had an engine problem.
There have been several such incidents in the past when Sri Lankan refugees in Tamil Nadu have been rescued after being found stranded in the sea.
No routes from TN, boat journey start from Sri Lanka - Sakuna

"Our relatives and friends have fled and are living in Australia in comfort and luxury. Moreover, they have freedom of life. We know that entering Australia has become very difficult now. But, we are citizens of nowhere. We cannot hope to go back to Sri Lanka unless we see our future secured there," says 28-year-old Sakuna whose husband is said to be living in Australia.
Sakuna is living in Gummidipoondi camp with her 7-year-old son. They are waiting till her husband comes to the camp and takes them to Australia.
She went on to say that an illegal one-way boat journey to Australia costs INR 150,000. If by agencies, the refugees have to spend INR 2.5 million to enter Australia via boats. According to Sakuna and other refugees in the Gummidipoondi camp, there are no direct routes from Tamil Nadu to Australia. All have to go to Sri Lanka. That is where the operation is carried out.
Facebook reports said Tamil refugees were injected with poisons – Mathews

Some false reports are circulating among these refugees regarding their fate if they return to Sri Lanka.
According to another Sri Lankan refugee, Mathews, some unofficial Facebook pages and websites had reported that Sri Lankan Tamil refugees who had returned to the country from Tamil Nadu camps are injected with deadly poisons. No wehere in Sri Lankan media, such reports are recorded. Nevertheless, refugees who are willing to return, are left frightened and shattered after hearing such news. They have no way to receive correct news from official Sri Lankan media with the lack of communication facilities inside camps.
"We are a minority in Sri Lanka. But we want to get our old lives back, rebuild our homes and live in peace and freedom," Mathews said.
We need requisite confidence to return

- Samuel



Forty three year old Samuel said they would voluntarily repatriate only after concrete and credible measures are taken by the Sri Lankan government. They state that they should be given adequate verifiable assurances so that they would gain the requisite confidence to return to their native land.
The refugees have no confidence about politicians in India and Sri Lanka. They claimed the politicians remember those in camps only when an election was nearing.
"They come here only during the election period. They come here, hold meetings and give promises. After winning the election, it is very difficult to even fix an appointment with them if necessary. Sri Lankan politicians are also the same," he said.
Speaking about the recent political developments in the country after the establishment of the government under President Maithripala Sirisena, refugees of Gummidipoondi camp said they now have hope and it has raised some expectations of reconciliation. Many of the refugees don't believe they would be able to get back to their villages because there are apprehensions about the presence of the Sri Lankan Army in their home towns. They feel confined in closed camps for decades, the intention of going back to the motherland does not seem to be happening in the near future.
Our children have no jobs in India

- Nandini



Most refugees have refused to go back to Sri Lanka saying the government there has not come up with a clear plan for their resettlement and reintegration. They have lost everything in the war and cannot see how to restart their lives if they go back to their motherland without the support of the government.
Nandini said that she misses her siblings who are living in Sri Lanka. Nandini is waiting till her daughter Sheena finishes her Msc.
"Anyway, our children have no jobs in India despite having adequate qualifications. My family is planning to return to Sri Lanka after my daughter finishes her studies. We don't feel India is our home," she said.
They don't have a clear picture of the circumstances in Sri Lanka in order to make a final decision to move back home.
"We have no idea what is happening in Sri Lanka. Some of our people in camps said Tamil refugees who went back to Sri Lanka were being prosecuted over allegations of having connections with LTTE. I have no idea if I can enjoy a normal life there. I have a lot of queries to be clarified before returning," said Nandini.
Read the previous parts of the series – first – http://www.dailymirror.lk/article/Recalling-war-trauma-126742.html
Second – http://www.dailymirror.lk/article/Desperate-lives-inside-refugee-camps-128128.html
(522)