Qatar shows interest in SL's tourism, power and agri sectors
Published : 9:13 am November 1, 2017 | No comments so far | |
(296)
reads |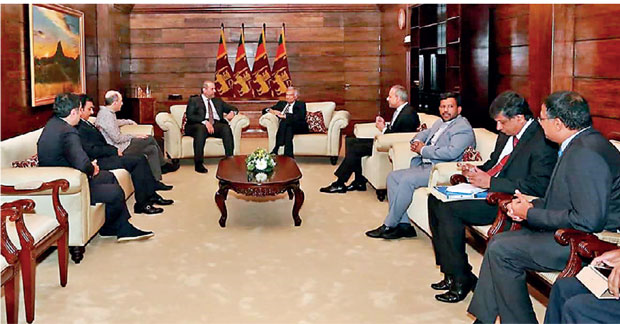 Qatari Minister of Economy and Commerce Sheikh Ahmed bin Jassim bin Mohamed al-Thani, Qatar Airways CEO Akbar Al Baker and the visiting business delegation in discussion with Prime Minister Ranil Wickremesinghe
The oil rich Gulf state Qatar has expressed interest in investing Sri Lanka's tourism, power and agriculture sectors.

This was communicated during a meeting Prime Minister Ranil Wickremesinghe had with a high-level Qatari delegation currently visiting Colombo.

The delegation is led by Qatari Minister of Economy and Commerce Sheikh Ahmed bin Jassim bin Mohamed al-Thani.

Qatar Airways CEO Akbar Al Baker also joined the delegation when it met Wickremesinghe on Monday night.

Newspaper reports said President Maithripala Sirisena during his recent visit to Qatar made a special request to Emir of Qatar to see possibilities of Qatar Airways to partner the ailing national carrier SriLankan Airlines.

Al Baker visited Sri Lanka last year too for preliminary talks with SriLankan Airlines and is reported to have said on his way out from SriLankan office that the airline needed a "good haircut."

Meanwhile, the visiting delegation has shown interest in investing in a luxury hotel in Colombo.

The government had earlier said it would sell the majority stakes of Grand Hyatt, which is under construction and Colombo Hilton, which are considered as non-strategic investments held by the government.