President inaugurates national school admin unit at Deiyandara
Published : 9:00 am November 10, 2017 | No comments so far | |
(333)
reads |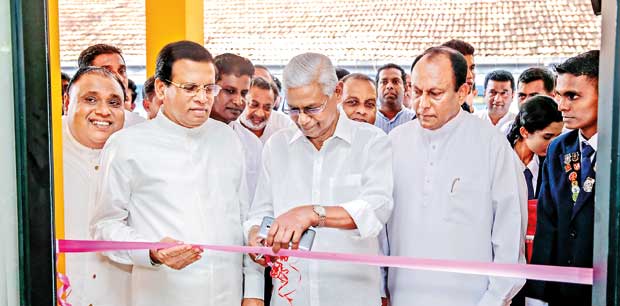 Lankadeepa Editor Siri Ranasinghe is seen opening the new building, while President Maithripala Sirisena, Minister Mahinda Amaraweera and Minister Lakshman Yapa Abeywardena look on.

The new Administrative Unit of the National School in Deiyandara, Matara was declared open by President Maithripala Sirisena on Monday.
The President who arrived at the school was warmly welcomed by the schoolchildren and he was engaged in an observation tour after opening the Unit.
Several parliamentarians, Ministers Mahinda Amaraweera, Lakshman Yapa Abeywardena and Faizer Mustapha, the Southern Province Chief Minister Shan Wijayalal de Silva and the School's Principal, W.W. Amarasena, the teaching staff and the parents attended
this occasion.