101-year-old woman from Wanchawala still strong
Published : 9:00 am January 11, 2018 | No comments so far | |
(304)
reads |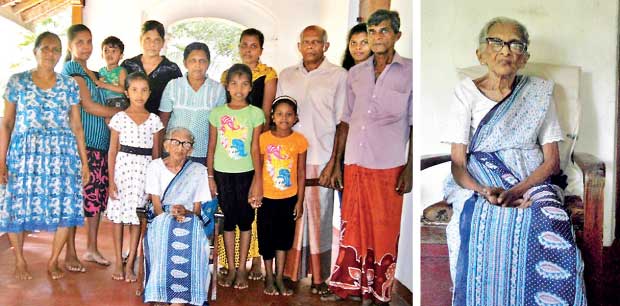 By G.W.K. Premathilaka
A woman aged 101 years is still fortunate to walk steadily without the aid of a walking stick. She is also able to attend to her personal needs of cleaning, using the washroom and other personal sanitary needs without being helped. This woman, Sopinona, lives in Aluthwatta, Kalahe, Wanchawala.
She was born on 11.12.1917. She is the eldest in a family of two daughters and had entered wedlock on 10 August 1944 when she took the hand of A.Thelikada Palliyaguruge Saradiel, a trader by profession.
Being the mother of three sons and two daughters Sopinona has lived happily with her husband until he died in 1965.
Now she is a proud great grandmother of 21 grandchildren. There are 8 in the third generation and 13 in fourth generation. At present she lives under the care and protection of her younger daughter P.P.G. Priya Premelatha (62) and one of her sons P.P.G. Mahendra (58).
This elderly mother was so eager, in presence of her children, to narrate about her life story to us.
Her voice is still very clear, given her old age.
"Until very recently I observed sil on Poya Days. I am very fond of reading and read any book I can find. I have recited the discourse of Pirith several times. I even read newspapers specially Lankadeepa with interest.
"Jackfruit and breadfruit are my favourites. Mango is my favourite fruit.
" Years ago I was a good lace knitter and engaged in it as a domestic industry," she said recalling the years gone by. Her stories convince us of the energy she possessed, in her youth.
Sopinona's youngest daughter Premalatha seemed greatly pleased when she spoke of her mother. She said they (members of the family) do not have to spend much time attending to her as the mother is still capable of doing her work without others' help.
They have also recently celebrated their mother's birthday.
(304)