Fusion: The T20 of Indian music
Published : 9:00 am January 29, 2018 | No comments so far | |
(287)
reads |
Lakshminarayana Subramaniam left this country as a dispossessed child, too small to fully comprehend the disaster that befell his family in 1958 as racist mobs torched their home and chased them away.


But the frightened little boy was already a violin prodigy. Music has wonderful healing powers, and whatever scars he suffered from that terrifying experience were overcome under the guidance of his musician parents V. Lakshminarayana Iyer and Seethalakshmi. He was already giving public performances at age six. Today, at seventy, he is India's best known violinist, a composer whose work has been performed in the United States and Russia. He has collaborated with musicians the calibre of violinists Yehudi Menuhin, Stephane Grapelli and singer Stevie Wonder. He has been called 'the Paganini of Indian classical music.'
Sri Lankans had the rare chance of watching a live performance by this diminutive musical dynamo last week at the BMICH, as the Indian High Commission invited him, his wife singer Kavitha Krishnamurti Subramaniam and daughter Bindu Subramaniam, who is a singer and composer in her own right.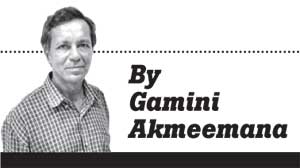 They were accompanied by an ensemble of eight musicians – Tannoy Bose (tabla), Sanjay Marathe (keyboards), Alwyn Fernandes (electric guitar, lead and rhythm), S. Satya Sai (percussion), Frijo Francis (jazz pianist and keyboardist), Keith Peters (bass guitar), Prasad Kulkarni (multi percussionist), and a solitary Sri Lankan — Sarangan Sri Renganathan (sitar).
The world's top musicians devise their own techniques no matter what instrument they play. French jazz violinist Stephane Grapelli devised his own unconventional playing methods and his partner, gypsy jazz guitarist Django Reinhardt amazed the world with his virtuoso guitar playing though the fingers of his left hand were badly mangled by an accidental fire at home.
The damage caused to Subramaniam by fire was principally psychological. But his virtuosity too, may be in direct co-relation to that. When he plays, you can see something burning in him. But fire is an all-consuming entity which cannot be calculated, spreading out of control very quickly. This inner fire is a creatively calculated one. It's the energizer of Subramaniam's technique, through which one musical tradition morphs into another, eastern into western, and this classical mix into something with folk origins, the tone colour sometimes fiery like the bluest of flames, with the awesome hues of a furnace blast, and then ebbing to tiny slivers of microtones. And it goes on and on.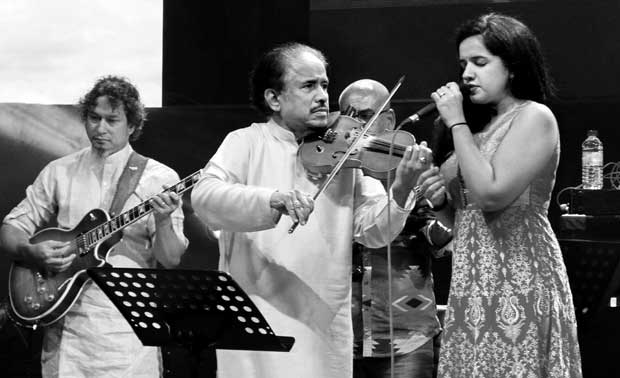 "Today, many Indians would be surprised to hear that"


Could the flames of childhood fan the fires of maturity? Each creative artist is a mystery, but in this case, one can draw a connection between the two. Dr. Subramaniam's creative universe has a uniquely Indian feel to it, as if he was a deity of music with his singing muse by his side. Into this familial pantheon, even his tiny granddaughter is drawn, as she entertained the audience with a flawless version of a Sinhala baila song, accompanied by her grandmother.
Kaveetha Subramaniam is a Bollywood playback singer in the high tradition of Latha and Usha Mangeskar, Asha Bhosle and Suman Kalyanapur. Both husband and wife are products of rigorous classical training. But Kaveetha Subramaniam reached her present pinnacle as a playback singer under the tutelage of the great film music composer duo Lakshmikanth Pyarelal, and her gratitude to them was evident in the homage she paid to them that evening on stage.
In India, just as all other rivers seem to be dwarfed by the Ganges and the Jumna, all music is dominated overwhelmingly by two massive streams – the classical tradition and its flooded deltas of film music. Till the 1960s, the latter was scorned by the authorities, so much so that film music was banned on All India Radio (forcing Indian film makers to air their songs via Radio Ceylon). When Ravi Shankar was in charge of the AIR orchestra, he initially followed the steps of his elder brother Uday Shankar and frowned upon the use of western musical instruments, though later his name became indelibly associated with fusion experiments with the Beatles and Philip Glass.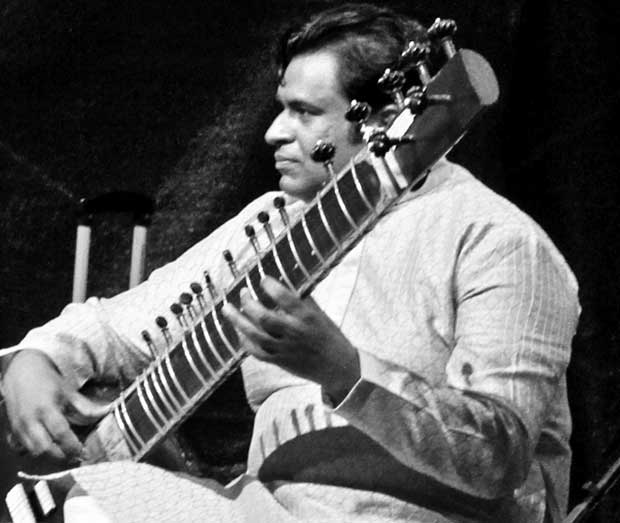 "Sri Lankans had the rare chance of watching a live performance by this diminutive musical dynamo last week at the BMICH, as the Indian High Commission invited him, his wife singer Kavitha Krishnamurti Subramaniam and daughter Bindu Subramaniam, who is a singer and composer in her own right"


Today, many Indians would be surprised to hear that. The tide is overwhelmingly in favour of popular music – be it film music or fusion. Just as innovative, far sighted film composers such as Naushad, Lakshmikanth Pyarelal, Shankar Jaikishan, S.D. Burman and his son Rahul Dev took film music away from its Bengali roots to a 'bastardised' Western-eastern mixture, catering to a huge fan base hypnotized by the new sound, western musicians such as George Harrison, John McLaughlin, composer Philip Glass and violinist Yehudi Menuhin began experimenting with their Indian counterparts such as Ravi Shankar. The resulting 'fusion' displeased many purists and was seen as a fad. But numbers count, and officialdom could no longer afford to ignore the new-fangled sound.
Today, its dominance of India's music seems to be far out of proportion to the number of its proponents in India. Last year, percussionist and composer Bikram Ghosh was invited here by the Indian High Commission. Like Subramaniam, he too, played fusion. Officialdom has been bowled over by the new sound. It is 'dynamic' compared to classical music, and politicians are quickly to see the potential of whatever moves the masses. Fusion has become the T20 of Indian music.
I am all for experimentation, but in this part of the world we are in danger of losing art forms, rhythms and literatures thousands of years old in the scramble for the new. In the West, despite all dire predictions that classical music is dying, there is a loyal fan base supporting a new generation of musicians interpreting Romantic, Baroque and other period music in ever more subtle ways. Over here, there was a time when one could find people who knew that the theme music of the radio drama Muwan Pelessa is derived from an Indian raga. But no one knows that any more.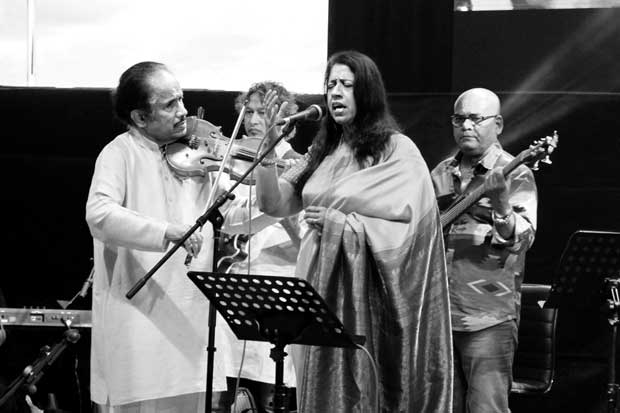 "This music is incomparably rich in melody"

Despite this scramble to market new forms of music which match the frenetic rhythms of the economic powerhouse that modern India has become, the old India still exists underneath. India isn't just the film industry, and all Indian music isn't just film music. The ragas of both the north and south have been created out of the rhythms and pulse of ancient Indians and the soil they lived on. This is the music which powered the ancient India of Ajanta, Ellora and Mahaballipuram, created visually for us in films such as Herman Wouk's Siddhartha or Bernardo Bertolucci's Little Buddha.
This music is incomparably rich in melody. India's modern film composers dip into this inexhaustible treasury when they create their hits. Harmony is what they borrow from the West, as India's musical tradition is weak in harmony. Fusion is both melody and harmony.
Congratulations to Subramaniam and other modern composers for bringing more vitality into that ancient musical idiom. But, after going home after the concert, I listened to a CD of Karnatic violin music by him, Kala Ramnath and Dr. N. Rajam (the latter two are female musicians) where the wailing violins sound uncannily like the human voice. It sounds like a concise emotional history of India's past ages in notational form. Listening to this, and with that fusion reverberating inside my head, I am truly caught between two worlds.

Pix by Pradeep Dilrukshana

(287)