Thiruvaiyaaru in Colombo
Published : 9:00 am February 12, 2018 | No comments so far | |
(234)
reads |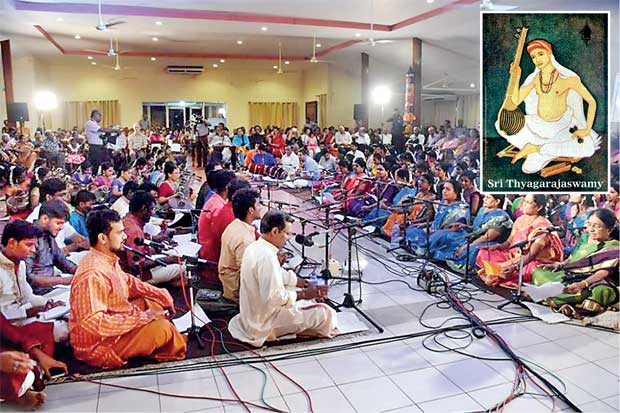 The Indian Cultural Center and the High Commission of India, Colombo, will present the annual Sri Thyagaraja Aradhana of the Carnatic Music tradition on Friday, February 16 at 5 p.m. at the Saraswathy Hall, Lorensz Road, Colombo, the ICC said in a media release.
Rehearsals will be held on February 14 and 15 at 4 p.m. at the Saraswathy Hall. Musicians who would like to take part may visit the Indian Cultural Centre or send email to iccrcolombo2@gmail.com. The festival pays homage to the great Carnatic composer Sri Thyagarajaswamy. Thyagaraja Aradhana is the annual Aradhana of Telugu saint composer Thyagaraja. Carnatic musicians from all over the world descend and pay homage to the saint at Thiruvaiyaaru. The main venue of the festival is near the Samadhi of Thyagaraja on the banks of river Cauvery.
On Pushya Bahula Panchami day, musicians will sit on either side of the Samadhi and render the saint's Pancha Ratna Kritis in a chorus as a mark of homage.


Many exponents of Carnatic music come to perform and are watched by thousands of ardent fans of Indian classical music.
Kakarla Tyagabrahmam (4 May 1767 – 6 January 1847) or Saint Thyagaraja, also known as Thyāgayya in Telugu, was one of the greatest composers of Carnatic music, a form of Indian classical music.
Of special mention are five of his compositions called the Pancha Ratna Kritis (Five gems), which are often sung in programmes in his honour.
Musicians, vocalists and percussionists from the University of Jaffna, Eastern University of Batticaloa, University of Visual and Performing Arts, Colombo, Highlands College, Hatton, as well as students of the Indian Cultural Centre will perform the compositions of Thyagaraja (Pancha Ratna Keerthanas or (Five Magnum Opuses) on the occasion.
(234)