Riots in Kandy Choosing hatred and suspicion over tolerance and love
Published : 12:02 am March 13, 2018 | No comments so far | |
(236)
reads |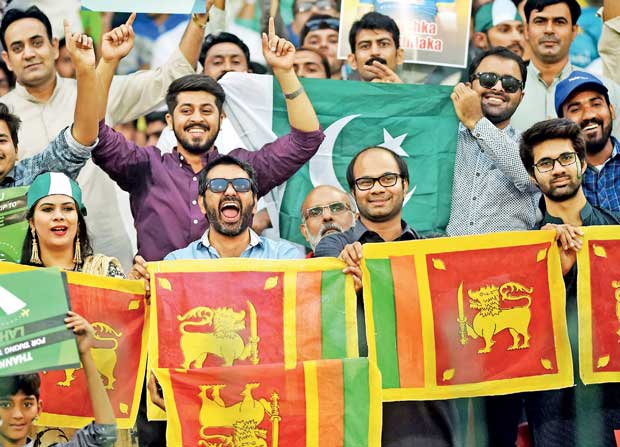 When we fill our mind with ideas that detach man from man, which makes one a Sinhalese and the other a Muslim, or one a Tamil, life becomes agonizing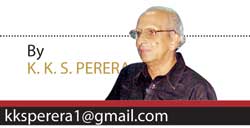 More than a hundred Buddhist monks, members of the National Bhikku Front and other activist groups staged a protest in the city of Colombo on March 9 (Friday) against what they termed the destruction of national unity and to condemn anti-Muslim riots. The silent protest was organised by the Maha Sangha who realized that there is no bigger distortion of Buddha Dhamma than man-slaughter in the name of Buddhism.The extent and level of riots and destruction in Kandy was greater and more extensive than that of Ampara in the East.The violence affected Teldeniya, Katugastota, Aladeniya, Digana, and Abathenna.

UNP MP Mujibur Rahman speaking in Parliament said, "I complained several times to the police headquarters regarding this racism. I requested the President at group meetings to take action. But unfortunately as a Government, we have done nothing to stop this situation."

"Muslims helped the military during war against the ruthless LTTE. Military intelligence during the conflict was completely run by the Muslim officers helped by their civilian community"- former Navy Chief.

When the riots broke-out, a confused Sirisena-Wickremesinghe unity Government after some initial dilly-dallying got into delayed action. An island-wide emergency was declared and police curfews enforced in affected areas. The military was deployed to coordinate with the Police Special Task Force in combating violence.
The Government must ensure that notorious individuals, who have incited communal violence, particularly those who have preached hatred openly and publicly, be arrested, investigated and prosecuted following due course of the law. Social media like Facebook, WhatsApp, viber and other communication techniques were being used to transmit misinformation and hate speech aimed at provocation of more violence.

Blocking of social media

However, the blocking of social media and other communication channels, though with valid reasons, affects persons from seeking help, especially journalists from coverage around the state of affairs. Such decisions should be limited to a short duration. A better approach would be to convey the true facts or reality against these hateful rhetoric recounts by emphasizing that Sri Lanka is a multilingual, multi-national and multi-religious country in which all the people's rights and privileges are equally protected and respected. Government must take drastic action against both the politicians and non-politicians who advocate national, racial and religious hatred. Failure to act against those accountable for destruction, those who caused damage and loss and others for inaction is a failure of civilization as a whole.
On 7th Wednesday, there were reports that one member of the mob, a father of a two year-old child, had died when the hand grenade that he was carrying exploded. His wife was reported to be an expectant mother, who would be compensated with poor tax payers money. Laws needed to be enacted to recover such costs from the people responsible for directly and indirectly instigating mobs on violence. The indirect category obviously belongs to the opposition's political hate-speakers.
"I think that hate is a feeling that can only exist where there is no understanding."
- Tennessee Williams

Escape from reality

When we fill our mind with ideas that detach man from man, which makes one a Sinhalese and the other a Muslim, or one a Tamil, life becomes agonizing. We then destroy each other in our eager to have a superior life, an escape from reality. All religions have failed miserably in bringing peace to this country.

A Muslim man was killed, mosques, businesses and houses were set on fire and innocent Muslim men, women and children were subject to violence by Sinhala-Buddhist mobs in Kandy. Most Buddhists base their stands on false beliefs, mistaken presumptions and vague perceptions. The truth has to be inculcated or taught until they would understand the real elementary Buddhist pedestal which is tolerance and love, not hatred and suspicion.
Government must take drastic action against both the politicians and non-politicians who advocate national, racial and religious hatred. Failure to act against those accountable for destruction, those who caused damage and loss and others for inaction is a failure of civilization as a whole

Asgiriya and Malwatte Prelates

Reminiscing his nostalgic memories of World War II, Dr H.S.S. Nissanka, author, writing in 2009 reveals a secret Most Ven. Welivita Saranankara Maha Nayaka Thera of Malwatta Chapter had told him in a casual conversation. When the War broke out in 1939, he was 11-years-old and the Japanese bombed Colombo on April 5, 1942. Lord Mountbatten, the head of the South East Asia High Command, was staying in the King's Pavilion. He also had his war office at the Botanical Gardens in Peradeniya and Headquarters at Kundasale. The War Council consisting of Lord Mountbatten, Geoffrey Layton, Sir John Kotelawala and Sir D.B. Jayatilaka had met in Colombo after the Japanese bombed Colombo. The British officials had been suspicious of Asgiriya and the Malwatte prelates that they would support the Japanese given the Buddhist connections.

Therefore, the British High Command had decided to confine the Maha Sangha of Asgiriya and Malwatte Chapters to house arrest and also some members were to be executed. Sir John Kotelawala and Sir D.B. Jayatilake rushed to Kandy and conveyed the plot to the prelates and got the monks to sign a statement affirming their loyalty to the British crown, averting an unprecedented scenario.

The Mahanayake Thero's has not expressed repulsion and disapproval over acts of instigation or goons burning the possessions of Muslims. The authorities must bring these happenings to the Venerable Mahanayake thero's attention. We are at present going through a course of reconciliation, which is essential to the public order. The Government is making a slow effort toward uniting the country, so that it would by no means slip back to a civil war. We are a plural society with quite a few religions and ethnicities. This is the truth and we have to face that reality. A periodic flare-up and clashes arise among various divisions. We must learn to deal with such adverse events. Religious dignitaries, especially the Buddhists must take the responsibility of convincing the misguided using the hallowed teachings of Gautama Buddha.

The Gautama Buddha warned against humiliation of people based on race, caste and religion. Buddhism constitutes a Dhamma that promotes complete nonviolence. Human discrimination of all sorts are condemned in it. Sri Lanka is a country where the Buddhists are the majority, the emergence of such trends which slows down collective progress has to be countered effectively. The situation demands a serious discussion between the monks and the laity on the compassionate vision of Buddha Dhamma. Cultural and Linguistic identities are the main causes for separatists activities in multi-ethnic nations. The most frightening one appears to be the prejudices aimed at the minorities by some politicians. Discrimination in any form is totally unacceptable under Buddhist teachings. The stoic silence or delayed response on the part of Mahanayake Theros to junior members of the sasana who are involved in violent acts, cannot be condoned. Today no ruler would ever dare to confine the prelates to 'temple-arrest'; they have nothing to fear, they can come out of their abodes during a catastrophe.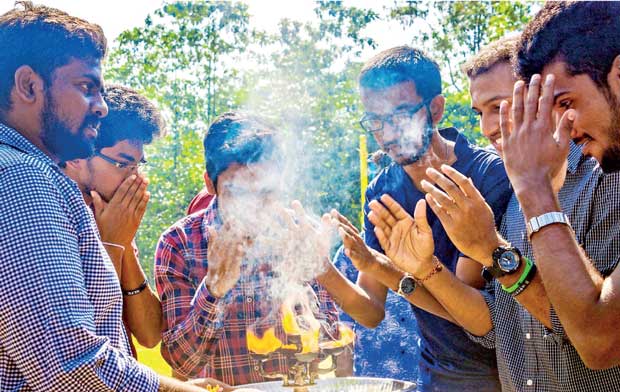 We are at present going through a course of reconciliation
(236)