Elaborate plans for international yoga day
Published : 12:01 am May 5, 2018 | No comments so far | |
(249)
reads |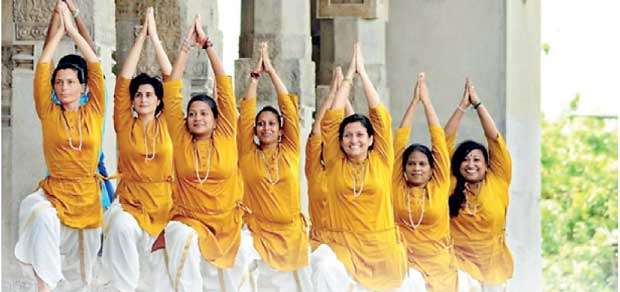 The High Commission of India presents YOGA FOR YOUTH…YOGA FOR ALL, an innovative Yoga programme that envisages reaching out to more than 20,000 students at different Universities all over Sri Lanka. It aims to create awareness and spread the essence of yoga among the youth of Sri Lanka. This programme will lead on to the 4th International Day of Yoga schedule for next month.

Yoga is a key element of the shared cultural heritage of India and Sri Lanka and an invaluable gift of ancient Indian tradition to humanity. In 2014, the United Nations General Assembly adopted a resolution piloted by India to declare June 21 each year as the "International Day of Yoga". The resolution was supported by more than 170 countries, with Sri Lanka being one of the first co-sponsors. Since then, International Day of Yoga has been celebrated with great enthusiasm each year throughout Sri Lanka.

A team of Yoga instructors from all the eminent yoga institutes of Sri Lanka, as well as the Indian Cultural Centre, will travel to different Universities and conduct a series of Yoga lecture-demonstrations and workshops from 9th May to 28th May.

These events are being organized in collaboration with Consulate General of India, Jaffna, Consulate General of India, Hambantota, Assistant High Commission of India, Kandy and eminent Yoga institutes of Sri Lanka such as Astanka Yoga Mandir, Sethsada Yoga, Youth Council of Sri Lanka, Institute of Human Excellence, A.A.Y.U.S.H., Sri Lanka, Art of Living, Brahma Kumaris Raja Yoga Center, Om Kriya Babaji Yoga Aranyam, Hatha Yoga Centre, Prana Lounge and Shakhti Ananda Yoga school.

Further details about '4th International Day of Yoga' can be obtained by visiting Indian Cultural Centre, Colombo or by calling 2684698. Details can also be obtained by sending a mail to iccrcolombo2@gmail.com
(249)