Doha Bank to play key role in attracting Qatari investments to Sri Lanka
Published : 8:18 am June 8, 2018 | No comments so far | |
(168)
reads |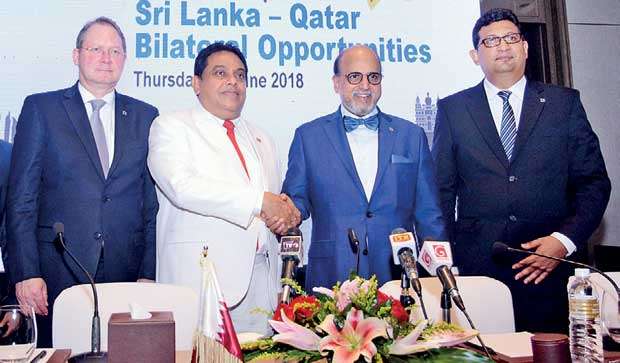 From left: Doha Bank Chief International Banking Officer Frank Hamer, Sri Lankan Ambassador to Qatar A.S.P. Liyanage, Doha Bank CEO, Dr. R Seetharaman, and Doha Bank, Chief Representative Officer in Sri Lanka Eranda Weerakon.
Pic by Pradeep Pathirana
Mulls FTA potential between the two countries
Sri Lanka-Qatar Business Council to be formed
Bank says Qatari investment would help SL position as regional aviation hub
Bank CEO says he wants to bring Qatar Airways to invest as joint venture partner in aviation
By Nishel Fernando
Doha Bank, the third largest conventional bank in Qatar yesterday inaugurated its representative office at World Trade Centre (WTC) in Colombo, becoming the first Gulf bank to be launched in the country. The bank is said to be aiming to promote bi-lateral trade and investments between the two countries while mulling over a potential FTA between Sri Lanka and Qatar.

Announcing the inauguration of Doha Bank in Colombo yesterday at Shangri-La Hotel, the Group CEO of Doha Bank Dr. R. Seetharaman said, "We want to bring Qatari investments to various sectors of Sri Lanka and Doha Bank will play a bigger role in bringing these bi-lateral investments."

He averred that Doha Bank will play a key role in bringing Qatari investments to Sri Lanka.

He highlighted that there are bigger opportunities to promote bi-lateral trade and investments between two countries leading to a potential FTA between two countries as Sri Lanka is currently exploring FTAs among its regional peers.

Seetharaman said that agriculture, aviation and energy are the main sectors where two countries can expand investments and trade.

"We have a bigger opportunity to invest in agriculture food security, Qatar has been going through a blockade by neighbours and hence food security is a major concern. With agro-processing technologies, we have here; we want to invite food supplying food processing companies to Qatar," he added.

He announced that Sri Lanka-Qatar Business Council will be formed and consequently the Doha Bank will facilitate a visit of a multisectoral Qatari business delegation to Sri Lanka.

Speaking of investment opportunities in Sri Lanka for Qatari investors in aviation sector, Seetharaman said, "There couldn't be a better position than Sri Lanka. We want to bring Qatar Airways to invest as joint venture partnership in aviation."

He noted that Qatari investment would help Sri Lanka to position as the aviation hub in the region giving a boost to the country's tourism industry.
Sri Lankan Ambassador to Qatar, A.S.P. Liyanage acknowledged that Doha Bank was instrumental in bringing UAE-based retail giant LuLu group to Sri Lanka. LuLu Group invested US$ 20 million in food processing and export facility while pledging US$ 1 billion investments in Sri Lanka. In addition, Liyanage revealed that LuLu has agreed to provide 30,000 employment opportunities for Sri Lanka at their hyper-malls.

Seetharaman noted that Doha Bank has provided almost US$500 million worth of credit lines to Sri Lankans over the years.

He asserted that Doha Bank will facilitate multi-lateral trade opportunities for Sri Lanka as the bank has a global presence in India, Bangladesh, China, Japan, Singapore, UK, UAE, Kuwait, Canada, Germany and South Africa in addition to 30 branches in Qatar.

Explaining the bank's strategy in Sri Lanka, Seetharaman said that initially the bank will offer bank-to-bank credit facilities to local banks followed by trade finance and eventually will become a fully-fledged bank with retail banking/high street banking facilities.

According to him, there are over 145,000 Sri Lankans employed in Qatar's 2.5 million population and during last year, Sri Lanka has received almost US$500 million in remittances. He said that Doha Bank will now be able to offer various banking solutions to Sri Lankans working in Qatar.

Seetharaman also said that the Doha Bank will help Sri Lanka to attract Gulf sovereign funds which is valued at over US$ 2.3 trillion.

He added that Sri Lanka and Qatar would also be able to cooperate on maritime, infrastructure development, Shipping, KPO, BPO to explore investment opportunities.

Meanwhile, Seetharaman said that Sri Lankan and Qatari governments have been looking for opportunities for LNG imports to Sri Lanka and related infrastructure development in order for Sri Lanka to diversify its energy sources.

He also invited Sri Lankan companies to set-up their operations in Qatar which has embraced liberalised economic policies encouraging foreign entrepreneurship, skilled and unskilled labour.

Sri Lanka-Qatar bilateral trade amounted to US$80-85 million in 2017, Seetharaman insisted that the two countries could potentially boost trade volumes between two the countries by billions dollars.

Incorporated in 1979, Doha Bank is the third largest local conventional bank by assets in Qatar with a market share of approximately 6.7 percent and assets totalling Qatari riyal 93.69 billion.

Doha Bank's long term local and foreign currency rating was assessed at A2/BBB+/A/A+ by Moody's, S&P, Fitch and Capital Intelligence respectively.
(168)