Help Hasini
Published : 9:16 am June 22, 2018 | No comments so far | |
(276)
reads |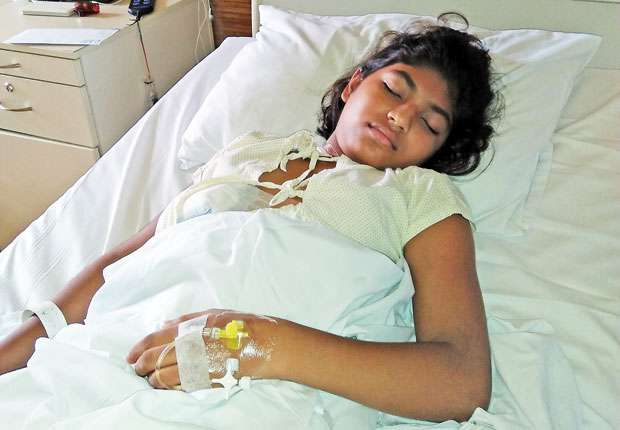 Father pleads to collect Rs. 700,000 within a week

Battle of retired Army soldier to save his daughter from Thalassaemia Major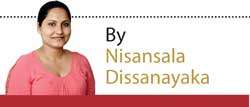 Hasini Imasha Rajapaksha, (14) has undergone a successful matched unrelated donor bone marrow transplant for Thalassaemia Major in May 2018 at the Asiri Central Hospital in Colombo.
Finding matching bone marrow had been the most difficult task, which they later overcame with the support of DATRI Gene Bank in India after paying Rs. 2,300,000.
The transplant was done under the consultation of Dr Lalindra Gooneratne, Consultant Haematologist & Director Bone Marrow Transplant Programme.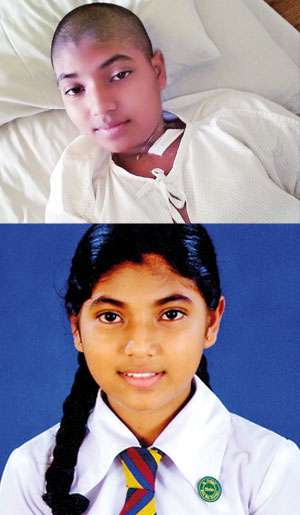 The parents, R.M. Aruna Krishantha Rajapaksha and Thushari Dilhani Jayasundara, are residents in Nikadalupota, Ganewatte.
Their only child – Hasini was suffering from Thalassaemia since childhood and the treatment began when she was just eight months old.
She was registered in Thalassaemia Centre in Kurunegala Teaching Hospital under the registration Number 470.
He had been fighting to save the most precious gift in his life, day and night to raise funds making requests from well – to – do people as well as the general public.
The total amount of hospital fee is Rs. 10,900,000, I have already collected ten million and two hundred thousand rupees but I need another Rs. 700,000 to discharge my daughter from the hospital within a week.

- Father -

Parliamentarians Dr Harsha De Silva, and Rajitha Senaratne helped him, while cricketers Lasith Malinga, Dinesh Chandimal and Rangana Herath helped him financially.
"The President's Fund gave me five hundred thousand rupees (500, 000)," father Krishantha Rajapaksha said.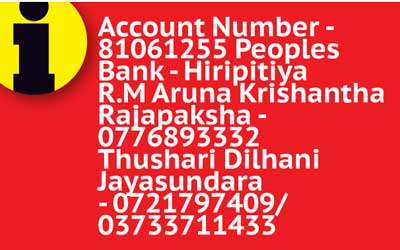 "I have been struggling to find money that is necessary for my daughter's treatment. I was able to find one million with my own effort, there is nothing I didn't do for raising the money. On some days I would go to Kandy, come back to Galle Dewale in Minuwangoda, stay there until early morning and return to Kandy.
"After that, I would return to Colombo, Rajagiriya and go from door to door asking for help. I have found there are still good people in this world, one lady in Rajagiriya helped me with Rs. 500,000 when I visited her house, she asked me to bring my daughter there, and it was more than the amount she promised.
"Rana Viru Sewa Authority also gave me Rs. 500,000," he said.
Hasini is a student of Kurunegala Wellawa Maha Vidyalaya and studies in Grade 9. She is a talented dancer and skilled in playing local drums (Bera)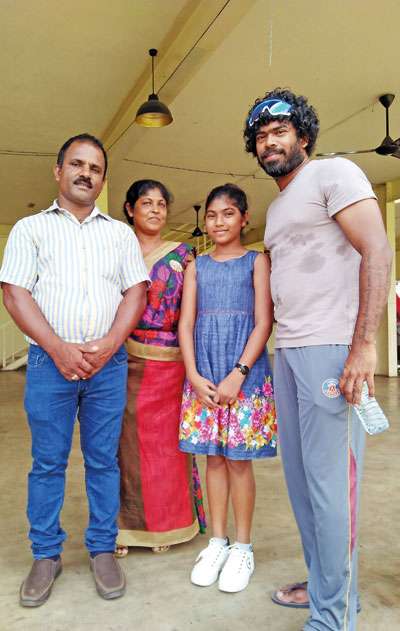 Retired from the Sri Lanka Army ending the service of 22 years, father Aruna Krishantha Rajapaksha was an active soldier during the final missions of civil war in the North and East.
He is requesting for help from the general public to complete his mission of curing his daughter.
"I have enough experience to write a book. I visited some politicians asking for help, but some of them kept ignoring me while some noted my presence but rejected helping me heartlessly," he said.
"There was a day that I cried after visiting a certain politician, who asked me "Are you mad? and your daughter cannot be cured.!!."
"I think I should not suffer this much, I have served my country for more than two decades sacrificing my life. There are still two shrapnel pieces in my head, which they couldn't remove through surgery," he said.
Whatever came his way, the brave father/former soldier is determined to raise funds for his daughter. His willpower and strength and resistance was tested endlessly, but he didn't give up, even if he was unsure of how people will react to his requests, he won't stop to catch his breath while his daughter is struggling to survive in the hospital.
"There is lot more expenses since my child is to be kept in a sterilized room after being discharged from the hospital, to protect her from germs.
Only her mother is allowed to be in touch with her fearing of any infection. Weekly check-ups cost around Rs. 30,000 because she has clinics every week for six months.
"The total amount of hospital fee is rupees ten million nine hundred thousand. (10,900,000 LKR) I have already collected ten million and two hundred thousand rupees but I need another Rs. 700,000 to discharge my daughter from the hospital. That is to be urgently collected within a week.
I have no properties to sell or any other way to raise money except asking from kind-hearted people out there." he pleaded. Please contribute and share.
(276)