Sri Lanka to revise fuel prices every month
Published : 12:02 am July 14, 2018 | No comments so far | |
(273)
reads |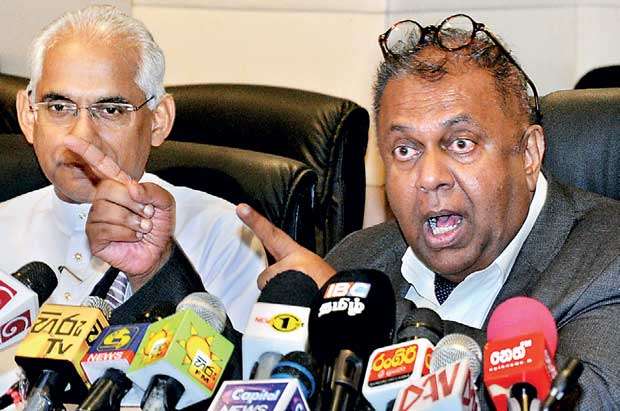 Ministers Mangala Samaraweera and EranWickramaratne expressing views at the media briefing. Pic by Nisal Baduge
Ministers note the need to revise fuel prices weekly or daily to reflect price changes in world market accurately
State Minister of Finance says consumers should reduce fuel consumption when prices increase and vice versa
Govt. claims fuel pricing formula is in accordance with international standards
By Nishel Fernando
Sri Lanka is to adjust fuel prices every month to reflect the world market prices of fuel through the announced "fuel pricing formula".

Addressing a media conference yesterday, Finance and Mass Media Minister Mangala Samaraweera announced that the Cabinet has agreed to revise fuel prices every month, also noting that on the 10th of every month revised fuel prices will be announced according to the formula and the revised fuel prices will come into effect from the midnight of the same day.

Samaraweera stressed that Sri Lanka needs to revise fuel prices on a weekly basis or even on a daily basis, in order to reflect changes in world market oil prices more accurately. However, he said that CPC informed the Finance Ministry that they don't have the technology to revise fuel prices daily or weekly, hence the Cabinet this week agreed to revise fuel prices on a monthly basis for the time being.

He revealed that a special committee headed by deputy secretary to the treasury and representatives of the President, Prime Minister, Ministry of Petroleum Resources, Ministry of Public Enterprises and Fiscal Policy Department have been appointed to implement the pricing formula.

Samaraweera was optimistic that there may be fuel price reduction soon, given the recent trends in the world market.

Joining the press conference, State Minister of Finance, EranWickramaratne also insisted that the fuel prices should be revised constantly in order to reflect world market prices more accurately, passing the benefit of the latest world market prices to the consumer. He said that the government will be able to revise fuel prices on a daily basis using the fuel pricing formula.

He pointed out that when the prices go up, the consumer can reduce fuel consumption and simultaneously when prices drops, the consumer may increase the consumption. Hence, the consumer would be in a position to make decisions based on the prices.
Referring to a recent household expenditure survey, Wickramaratne said that the richest 10 percent of Sri Lankans derived 31percent of benefits of the subsidized fuel prices, while the poorest 30 percent of Sri Lanka derived only 9 percent of benefits from the subsidized prices.

Samaraweera emphasised that anybody is welcome to view the fuel pricing formula through Right to Information (RTI) applications. However, he didn't disclose the fuel pricing formula despite repeated requests to do so.

According to Wickramaratne, the main components in the formula includes of Platts Singapore benchmark prices, exchange rate, distribution costs and taxes. He noted there are one or two other components in addition to these components. He asserted that the fuel pricing formula is in accordance with international standards as similar to the fuel pricing formulas adopted by other countries.
(273)