State-run Lanka Sathosa expects to return to black this year
Published : 9:00 am July 19, 2018 | No comments so far | |
(206)
reads |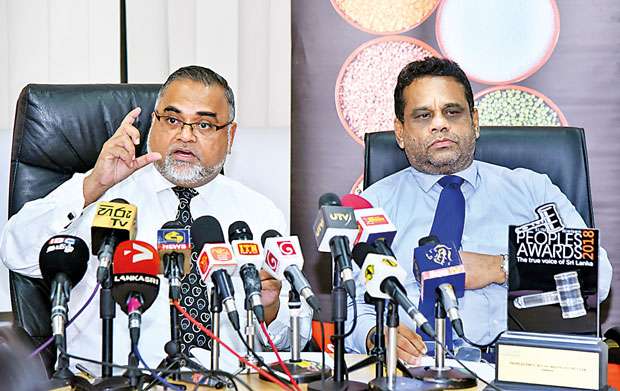 From left: Lanka Sathosa Chief Executive Officer Dr. S.H.M. Faaaz and Lanka Sathosa Deputy General Manager Ranjith Edirisinghe
Pic by Samantha Perera
By Nishel Fernando
Lanka Sathosa will return to profits this year amid the cost-cutting initiatives and focus on high-yielding grocery sales, according to the head of Sri Lanka's state-run supermarket chain.

Lanka Sathosa incurred a staggering Rs.3.7 billion loss in 2016. However, the loss was narrowed down to Rs.600 million in 2017.

During the first six months of this year, the state entity was able to earn a profit around Rs.42 million, according to the unaudited financial reports of the company.

Addressing a media conference yesterday in Colombo, Lanka Sathosa CEO Dr. S.H.M. Faaaz expressed his confidence that Lanka Sathosa would become a profit-making state organisation by the end of this year. He said Lanka Sathosa set a target to achieve Rs.40 billion in revenue this year and it has become achievable as it recorded a turnover of Rs.17 billion in the first six months of the year. Lanka Sathosa recorded a turnover of Rs.31 billion in 2017.
"I strongly believe that all state organisations have their ability to make them profit-making organisations," Dr. Faaaz asserted.

While noting that the sales of essential items were the main strength of Lanka Sathosa as a state-run entity, he pointed out that almost all the essential items are sold almost at cost and sometimes during festive seasons, the items are sold below the cost.

"We don't earn high profit margins from essential items as we are there to provide the lowest price in the market," he added. Hence, Dr. Faaaz said Lanka Sathosa has put more effort into boosting grocery sales. According to him, the sales of essential items accounted for 60 percent of its turnover, while the grocery sales accounted for 40 percent.

He noted that the average profit margin of grocery sales is around 15-16 percent, whereas the essential items' margin is somewhere around 8 percent.

"We are trying to increase the grocery sales at least by 10 percent to bring it to 50:50. Meantime, we have reduced our cost in many areas through computerisation, demand planning ERP systems, etc."
Dr. Faaaz said Lanka Sathosa has recruited private sector quality assurance officers to provide the quality services on par with the private sector supermarkets and also carry out merchandising, marketing and other promotional activities to boost the grocery sales.

Lanka Sathosa cut down cost by 12-15 percent last year with the computerisation project and the state entity expects to computerise all its 400 outlets within this year.

In addition, Lanka Sathosa has adopted cost cutting through installing CCTV cameras at its outlets to minimize overtime payments, setting up HR systems and KPIs.

Speaking to Mirror Business, Dr. Faaaz said Lanka Sathosa is the leading player in modern trade in Sri Lanka with a 22 percent market share and in recent months, it has been successful in attracting a portion of consumers that patronise private sector supermarkets.

Speaking of expansion plans, Dr. Faaaz noted that the mega model outlet programme of Lanka Sathosa has become a success as the public has embraced the concept.

According to him, the sale volumes of the first mega outlet in Welisara, which was launched in January this year, has increased by 200 percent, compared to the first six months of last year. "We have initially planned to open 25 mega outlets throughout the country. We will open two outlets in a month in Ja-Ela and Narahenpita, followed by Kandy and Badulla," he announced. Dr. Faaaz noted that the capital expenditure is around Rs.7-8 million per mega store and Lanka Sathosa has stuck to a limited budget.

He emphasised that Lanka Sathosa aimed at providing 'mega experience' for its customers at an affordable price as the majority of the country's population either falls into middle class or low-income families.

He also announced that Lanka Sathosa would soon launch the Green Lanka Sathosa project with the assistance of the USAID under its ULEAD programme.

The programme is aimed at promoting environmental friendly practices such as discouraging polythene bag usage.

"We have signed an MoU with the USAID and their officials will be coming to Sri Lanka at the end of this month. They will be here for four years and they will be visiting all the outlets to identify people for the programme and will provide on the job training," he said.

Dr. Faaaz stressed that attitude change of the employees is crucial to provide a better quality service to the public.

Lanka Sathosa also plans to open 30 new outlets within this year, where seven outlets will be in the Northern and Eastern Provinces.

Lanka Sathosa also plans to set up SME corners at its outlets, aiming to provide a market place for SMEs to sell their goods.
(206)