Depressed consumer demand hampers John Keells first quarter
Published : 9:10 am July 30, 2018 | No comments so far | |
(151)
reads |
Except for group's transport and financial services segments, all other segments fare poorly
Net profit down 23% to Rs.2.2bn; operating profit down 68% to Rs.682.8mn
JKH Chairman points at weak consumer sentiments and disposable incomes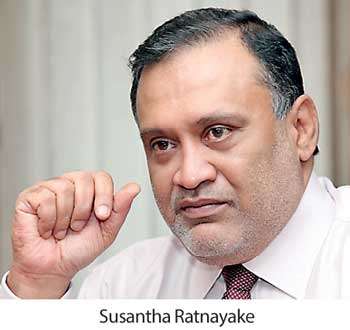 John Keells Holdings PLC (JKH), Sri Lanka's highest valued business conglomerate, could not escape from the dampened economic activities in the country, as the group performance was hampered by its key consumer business segments.

JKH recorded revenues of Rs.30.2 billion for the April-June quarter (1Q19), up by a modest 12 percent from the same quarter, last year.
However, the operating profit fell by 68 percent year-on-year (YoY) to Rs.682.8 million.

The group made earnings of Rs.1.58 a share or Rs.2.2 billion for the 1Q19, down 23 percent from the same period, last year.

The JKH's share ended Rs.2.07 or 1.87 percent down to close at Rs.142 on Thursday after the results were released to the stock exchange.

During the period under review, JKH slightly modified its reporting structure of its financial results by recognizing consumer foods and retail as two different segments and re-classifying office automation which was previously under information technology into retail.

The remaining IT operations and plantation services were re-classified under 'other' in the segmental information.

Except for the group's transport and financial services segments, which house businesses ranging from bunkering, shipping & logistics, insurance, commercial banking and stock & commodities broking, all other group's key business segments that directly get exposed to the end-consumer, performed poorly.
JKH Chairman Susantha Ratnayake in his review to the interim accounts repeated the previous statements that weak consumer sentiments and disposable incomes have depressed the basket values of the consumer.

Mirror Business last week showed how the group's consumer foods and retail businesses have been negatively impacted by these same factors although Keells Foods Products—the processed food maker in the group— had managed to escape the downward spiral.

Meanwhile, JKH's leisure sector was adversely impacted by the poor city hotel performance and also from the Rs.202 million non-cash impact from the closure of two resorts in the Maldives—one for re-construction and the other for refurbishment.

The group's transportation segment reported earnings of Rs.826 million, up from 773.1 million a year ago, due to better performance of the group's bunkering and ports and shipping businesses.

"During the quarter under review, the Port of Colombo witnessed a year-on-year growth of 15 percent whilst South Asia Gateway Terminals (SAGT) recorded a growth in throughput of 25 percent.

Profitability of the group's bunkering business, Lanka Marine Services (LMS), increased as a result of a volume growth of 20 percent and improved margins. During the quarter, LMS commissioned 'MT Amelia', further enhancing LMS's overall storage capacity and delivery efficiency.

The logistics business recorded a strong performance due to an increase in throughput in its facilities," Ratnayake said in his earnings review.

Meanwhile, the group's property business incurred a net loss of Rs.5.9 million from a profit of Rs.49.4 million a year ago mainly due to Rajawella Holdings Limited, which is currently undergoing a relaying of the fairways.

The pre-sales at the group's flagship project Cinnamon Life is at 62 percent by June end while JKH expects the tender submission for the Tri-Zen residential development project to be received during the second quarter.

Meanwhile, the group's financial services business reported earnings of Rs.550 million, up from Rs.235 million a year ago due to 13 percent increase in gross written premiums at Union Assurance PLC and steady loan growth at Nations Trust Bank PLC.

As of June 30, 2018, Edgbaston Asian Equity Trust and Norges Bank had slightly increased their stakes to 2.0 percent and 1.4 percent from 1.8 and 0.9 percent held by end of March, respectively.

Lux-Aberdeen Global-Asian Smaller Companies Fund and Aberdeen Institutional Commingled Funds LLC had trimmed their stakes to 1.7 and 1.5 percent from 2.0 percent and 1.9 percent.

Captain family as the largest shareholders held 16.6 percent of JKH as at June 30, 2018 while Broga Hill Investments Limited, a special-purpose investment vehicle of Malaysia's sovereign wealth fund Khazanah Nasional Berhad, held 10.2 percent stake.
(151)