Dr. G. P. Gunapala Malalasekara (1899-1973) Great scholar and world renowned Buddhist leader
Published : 12:02 am August 7, 2018 | No comments so far | |
(162)
reads |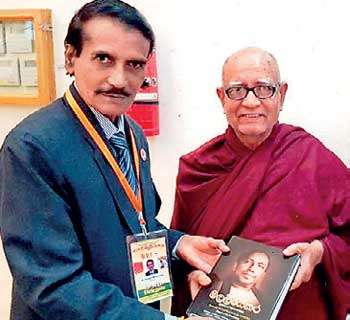 "Dr. Gunapala Malalasekera was a renowned scholar and a great Buddhist leader in the World" said the deputy Sangharaja of Sangharaja Maha Nikaya in Bangladesh, the most Ven. Dr. Gayasree Maha Thera at the Global Buddhist Congress and Peace Awarding ceremony organized by the Nirvana Peace Foundation in Bangladesh in collaboration with the World Alliance of Buddhists held at the Women's International Club Auditorium at Chittagong in Bangladesh recently.

The Deputy Sangharaja Thera expressed these sentiments while reading the special publication of the biography of Dr. Malalasekera 'The Pioneer of the Renaissance' which was presented to the prelate by Ratnasiri Mutukumara, the International Relations Officer of the Malalasekera Foundation while he was in Bangladesh attending an international conference and Award presentation ceremony of the Nirvana Peace Foundation in Bangladesh together with Manoj Divituragama a coordinating secretary of the Malalasekera Foundation.

The Maha Thera said Dr. Malalasekera was an eloquent speaker and a competent writer. His leadership and dedication to inaugurate the World Fellowship of Buddhists, the first international Buddhist organization in Sri Lanka in the year in 1950 had been a historic occasion and it was a significant event in his life.
More than 200 Buddhist monks including Four deputy Sangharaja Theras, a Maha Nayaka Thera and international Buddhist leaders headed by Dr. Pornchai Pinyapong (Ven.Palamadhammo Thera) and Sabuj Barua, the President and Mithila Chowdry, Secretary General of the Nirvana Peace Foundation participated at this special event,

The Sangharaja Maha Theras while receiving the biography special publication highly praised Dr. Malalasekera's dedication. commitment and contribution with regard to propagation of Buddhism throughout the world since inception of the WFB in 1950.

The biography of Dr. Malalasekera was co-edited by Prof. Kusuma Karunaratne and Dr. W. A. Abeysinghe to commemorate the 118th birth anniversary of Dr. Malalasekera by the Malalasekera Foundation headed by Barrister-at-Law Vijaya Malalasekera, the youngest son of Late Dr. Gunapala Malalasekera.
(162)