RPCs push for productivity based wage model
Published : 12:01 am October 26, 2018 | No comments so far | |
(113)
reads |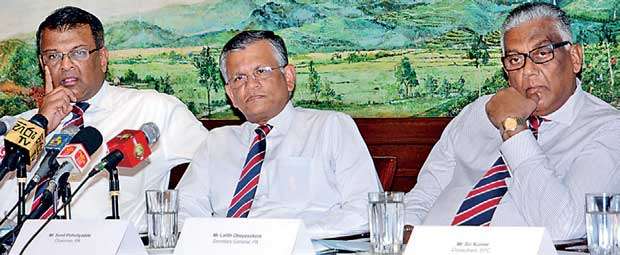 From left : Employers Federation of Ceylon (EFC) Plantation Services Group Chairman Roshan Rajadurai, Ceylon Planters' Association (PA) Chairman Sunil Poholiyadde and Ceylon Planters' Association (PA) General Secretary Lalith Obeysekera
Pic by Pradeep Pathirana
Wage negotiations in a deadlock
Trade unions demand to double basic wage to Rs. 1000
By Nishel Fernando
The Regional Plantation Companies (RPC) urge estate labour unions to embrace a productivity-based wage model in order to achieve a daily wage above Rs. 1000, which would also boost low productivity levels of RPCs. Addressing a press conference in Colombo yesterday, Planters' Association (PA) Chairman Sunil Poholiyadde revealed that negotiations over a new collective agreement have reached a complete deadlock as trade unions have rejected the 16.7 percent all-inclusive wage hike with 20 percent increase in the basic wage and productivity-based wage model of Rs. 46 per kilo with Rs.600 as gratuity.

While noting that trade unions are demanding to double the basic wage to Rs. 1000 regardless of productivity, he stressed that RPCs are not in a financial position to grant such a wage hike.

"RPCs are not denying a wage increase. However, there must be consideration for financial viabilities. The current market dictates and prices of the Colombo auction have shown a downward trend," he said.

While highlighting financial difficulties, Poholiyadde blamed the ad-hoc ban imposed on the weedicide, Glyphosate in 2015 which has led to a decrease of around 10 million kgs of tea harvest worth of Rs. 6-7 billion in RPCs.

Further, he noted that Ceylon Tea has been losing access to the Japanese market, which has a large impact on auction prices of high grown tea, due to the lack of a recognised alternative to Glyphosate. According to PA officials, Sri Lanka has lost around 25 percent market share of the Japanese market.

He said that tea prices have slumped to Rs. 550 a kilo on average today from Rs. 700 a kilo a year ago.

Despite the de-banning the Glyphosate this year, Poholiyadde said that PA wasn't informed when the RPCs will receive the first Glyphosate shipment.
Employers Federation of Ceylon (EFC) Plantation Services Group Chairman Roshan Rajadurai noted that all RPCs have been making looses in the current financial year due to these issues and low productivity levels.

According to PA, labour cost contributes to 67 percent of the operation cost of RPCs. However, the labour productivity remains the lowest among other leading tea producing countries including Kenya, despite high wages.

PA officials are of the view that the productivity-based wage model would benefit both employees and performance of RPCs.

"Raising productivity is an absolute must which the trade unions accepted at the last negotiations with the inclusions of productivity incentives in the wage package. Therefore it is essential that the wage is linked to productivity for the sustainability of the industry and national economy as a whole," Poholiyadde said.

Rajadurai pointed out that tea smallholders were able to increase their tea output to 76 percent today by adopting a productivity-based wage model which offers a minimum of Rs. 26 per kilo for green leaf while RPCs' tea output has declined to 24 percent.

He noted that the productivity-based wage model offered by RPCs to labour unions is much more beneficial to employees when compared to the smallholders' model, as RPCs' model also includes EPF, ETF, maternity benefits, gratuity, holiday pay, attendance bonus pay etc. Rajadurai noted that the average plucking per day was now above 20 kg, as 70-80 percent of workers are plucking over 20kg, above the norm of 18kg to earn above Rs 1000 per day.

The two-year collective agreement between Regional Plantations Companies (RPCs) and unions is to expire on October 15th. However, as per the terms of the previous agreement, the current agreement would be effective, until the two parties sign a new one.
(113)